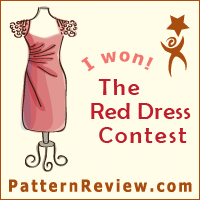 Ohmigosh, I can hardly believe it myself, but I WON the Red Dress contest over at Pattern Review! Sooooooo thrilling!
If any of my kind readers did put in a vote for my dress, then THANK YOU so much!
I did pop over on the weekend and saw my entry at what
seemed
to be at the top of the list, but not all the votes were there so I wasn't sure whether that meant they had not all been tallied yet or something; not being very with it on how the contests work over there.... so I tried not to get excited. Kept that excitement contained; just like a dog spotting a ham bone sitting up there on the kitchen bench. You can
see
the bone, and you think that bone
might
just be intended for you, but you don't dare hope just yet; that it might at the last minute be plonked into the cooking pot for soup, and not into your bowl.
Oh I guess the analogy falls down somewhat there at the end bit, but you're getting my drift, right...?
But now I am allowing myself to be excited!
(subdued and ladylike) squeeeal!